Screw plastic expanding plug
These types of anchors are the most common, and when you think of drywall anchors, you probably think of these. They're small little plastic anchors that are fairly basic, and you'll see them included in most shelf kits that you can buy at the store.
They're called expansion anchors because when you drive in the screw, they expand and push against the drywall in order to bite into it. They're not the best type to use, since they're not able to hold a whole lot of weight (maybe 10 to 20 pounds at most), but they're great for heavier picture frames and small shelves. Anchors will sometimes list the holding strength maximum on the packaging, but if not, it's best to play it safe and go with a stronger anchor (like the ones discussed below) if you're unsure.
1. How to install the plastic expanding plug?
* In any case, to use an expansion anchor, start by drilling a hole in the drywall that's roughly the same diameter as the anchor.
* After that, gently hammer the anchor into the wall. This is where you'll find out of the hole you drilled is either too big or too small. You want the anchor to go in fairly smoothly with a bit of resistance, but you don't want to be fighting with it to get it to go in.
* Hammer the anchor in until it's flush with the wall.
* Next, take your screw and begin driving it into the anchor. Make sure to position your shelf (or whatever you're mounting) up to where you want it and then drive in the screw. However, if you're just hanging a mirror or a picture frame, you can drive the screw in by itself and hang the mirror afterward. Stop driving when the screw becomes snug.
2. Different types of plastic anchors
These anchors come in three basic types: sleeve, toggle, and expansion. Use one that will safely support the weight of the object to be suspended.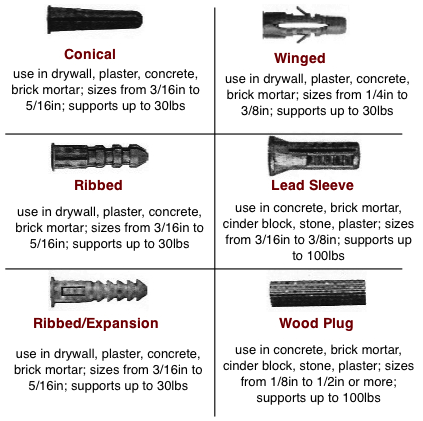 When manufacturing plastic products via injection moulding, you can use either a single or a multi-cavity mould. What is the difference between the two and how can you choose the best one for your injection moulding project? SWY MOULD will explain all this and more below. 
1. The difference between single-cavity and multi-cavity moulds
A single-cavity mould produces a single product per cycle, while a multi-cavity mould produces more than one product per cycle.
2. What is cavity in moulding?
The sequence of events during the injection mould of a plastic part is called the injection moulding cycle. The cycle begins when the mould closes, followed by the injection of the polymer into the mould cavity. Once the cavity is filled, a holding pressure is maintained to compensate for material shrinkage.
3. Cycle time
Whether you need a single or a multi-cavity mould depends on the number of products you want to produce within a certain timeframe and the cost advantage. If your product has a cycle time of one minute, you will never be able to produce one million products a year with a single cavity mould by injection moulding. After all, there are only 525.600 minutes in a year. On top of that, it takes time to optimally set up the injection moulding process. We also calculate the time to conduct preventative maintenance to the mould. If your goal is to produce a million products per year, you will need a multi-cavity mould, e.g. a four- or eight-cavity mould. SWY's experts can help you make the right choice.
4. Pros of a multi-cavity mould
* The desired number of products will be finished sooner because of the shorter lead time per batch
* You can produce more products with the same mould within the shot guarantee
* A four-cavity mould has, in most cases, a lower total cost of ownership (TCO) than four single-cavity moulds
* More efficient use of the cycle time
* Major scale benefits for stable processes
* Lower part price
5. Cons of a multi-cavity mould
* One multi-cavity mould requires a more substantial investment than one single-cavity mould
* A longer lead time for the mould manufacturer
* If there are any problems with one of the cavities, the entire mould will have to be taken out of the machine, which means the other cavities cannot be used either
* When using an automated process to operate a mould with a large number of cavities (thirty-two or more), each cavity will have to be absolutely perfect
Plastic injection mould rust and its solution
Injection molds are mostly made of tool steel. During work, it must encounter corrosive gases, water, and other substances that cause rust. Plastic parts made from rusty molds will cause quality problems and need to be ruled out.
1. Gases from melt decomposition
Some raw materials produce volatile gases when heated. Many raw materials also generate volatile gases when they are overheated. These gases are corrosive and diffuse around the machine. When the mold is not working, it will cause corrosion to the mold.
To this end, when the machine stops working, use a soft cloth to clean the mold and close the mold. If it is not used for a long time, the mold cavity should be sprayed with a rust inhibitor. When closing the mold, it should be coated with butter and plugged with water. mouth.
2. Cooling water in the mold
Multiple cooling waterway passes in the mold to wake up and cool, so there is more water vapor around the machine. If the mold is cooled to the dew point, moisture in the air will form water droplets on the surface of the mold, and it is easy to rust if it is not wiped off in time.
Especially after the mold stops working, condensate will be generated quickly. Therefore, do not stop molding easily, even if you want to stop, shut off the cooling water and wipe the mold dry.
3. Carbide generated during molding
After the mold is operated for a long time, the carbides precipitate and decompose in the molding material, which often causes the mold to wear, corrode, or rust. In this regard, if carbides are found, they should be wiped off and cleaned with a dry cloth immediately.
In order to get rid of the possible rust in the cooling channel of the mold and make sure the good cooling, for some high-end mold or required by the customer, SWY will use stainless steel for the mold base.