What is the thin-wall injection mould?
Thin wall parts are classed as such based on their flow length to wall thickness (or L/t) ratio. Each plastic material has different flow properties so each family of resins has different maximum L/t ratios. The table below shows maximum L/t ratios for some common materials – figures that approach these high values would be considered thin-walled. These values are based on a 2.0mm wall section, maximum L/t ratios reduce as the wall thickness gets thinner.
1. Wall thickness often <0.6 mm.
2. Parts with flow ratio > 150.
3. High Injection pressure.
4. High Injection speed.
5. Applications for containers in packaging and storage as well as disposable use.
Why do thin-wall injection moulding?
Thin wall injection molding can minimize products` wall thickness. It is the key to making lighter parts and improving production outputs. A thinner wall section allows shorter cooling time and cycle time.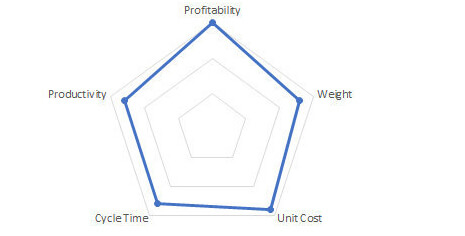 1. Less material per part means less material cost per part.
2. Higher Productivity.
3. High Profitability.
4. Thinner wall thickness means shorter cooling time and therefore shorter cycle time resulting towards.
Requirements of thin-wall injection mould
Thin wall injection moulds need to be robust enough to withstand high stresses and pressures. Heavy mold construction through-hardened tool steels will ensure a long-lasting mould.
The mould must also have a well-designed cooling system so that heat can be quickly extracted from the hot plastic part allowing fast cycle times. To achieve this, cooling channels need to be designed close to the molding surface. Cleaning the mould on a daily basis is also a critical requirement to maintain the part quality.