Main points of juicer plastic pitcher body injection molding
For this juicer plastic pitcher body mold, the most important point is the high-end polish.  The mold should be polished carefully to reach high transparency.  As there are two big sliders to form the part, the parting line on the handle part is important, too, which should be as less as possible to avoid flash and won't cut customers' fingers while using.
Design and engineer in SWY MOULD
SWY Mould uses the most popular software design. At SWY we work with customers no matter have complete specifications or just preliminary development plans. Our team of engineers will assist you in developing a clear understanding of your requirements and help you make the important decisions that will speed your design to mass production.
PC plastic injection molding
With outstanding performances, PC (Polycarbonate) plastics are highly transparent, impact-/creep-resistant, and can be applied within a wide range of temperature conditions. The technological characteristics of PC include: the viscosity of molten PC is not so sensitive to shear rate, but temperature; no clear melting point; the melt is highly viscous; the resin tends to decompose under high-temperature conditions and the product tends to crack. So, PC needs to be differently treated based on these features: instead of increasing injection pressure, raising injection temperature is required to improve melt fluidity; mold runner and gate are required to be short and wide, so as to minimize melt-pressure loss while guaranteeing a high injection pressure. The resin needs to be thoroughly dried before the injection molding process, to keep its moisture content below 0.02%. In addition, the material should be kept warm, in a bid to prevent moisture absorption. Not only does the product need to be properly designed, but also the right molding techniques need to be employed, e.g. raising mold temperature or applying product post-treatment which helps minimize or eliminate internal stress, and timely adjusting processing parameters depending on product conditions.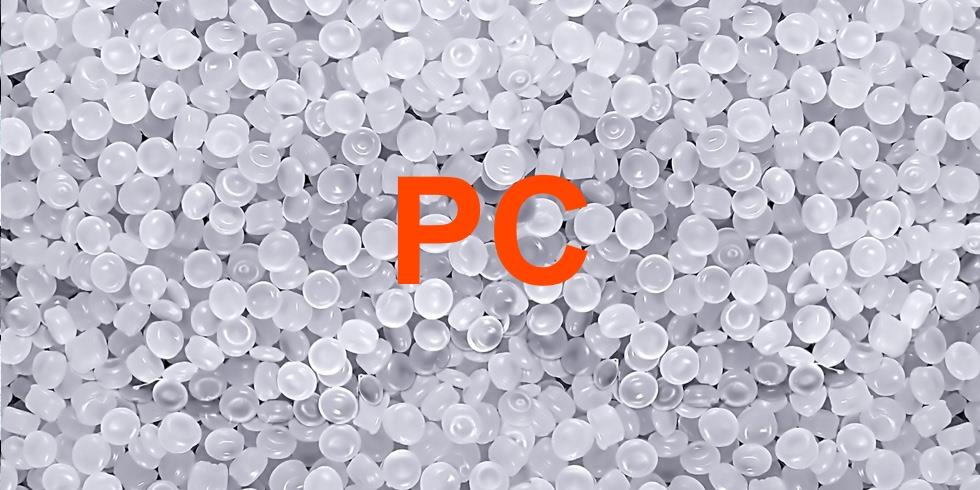 Technological characteristics of PC
PC requires a high injection molding temperature (270 – 320℃) due to its characteristics of high viscosity, high melt temperature, and poor fluidity. Relatively speaking, the adjustable range of material temperature is narrower than that of PMMA. Though having little influence on fluidity, the high injection pressure is still required due to the high viscosity. And accordingly, to prevent the generation of internal stress, holding time needs to be minimized. The characteristics like high shrinkage rate, dimensional stability, as well as high internal stress and easy cracking of the product make it reasonable to raise temperature instead of pressure so as to improve fluidity, and at the same time, raise mold temperature, optimize mold structure and apply post-treatment to minimize the possibility of cracking. When injecting at a low speed, ripples tend to occur around the gate, so the temperature of the injection nozzle needs to be controlled separately while guaranteeing a high mold temperature, and low resistance in the runner/gate.
The plastic injection molding performance of PC
As a group of crystalline polymers, PC has a clear melting point – melting at 220℃ and decomposing at 350℃; its general processing temperature is between 250 and 320℃; it absorbs moisture, and a slight amount of moisture can cause it to decompose at a high temperature, so it needs to be dried at 120℃ for 4 – 5h before injection molding; the melt of the PC material is quite viscous, so a high injection pressure is needed; when processing the PC material, if conditions allow, mold temperature controller can be used to increase mold temperature, so as to reduce product internal stress; when an insert has to be involved, preheating will not be necessary for inserts with a diameter smaller than 1 – 2mm, but larger inserts need to be preheated, or else cracks will be caused by internal stress; the shrinkage rate of PC has nothing to do with processing conditions and product thickness; with similar vertical and horizontal shrinkage rates, PC can be used to manufacture high-precision products; its shrinkage rate is 5‰ and overflow limit value 0.05mm.