What is the plastic raised floor adjustable pedestal?
The height-adjusted plastic pedestal support is a kind of new building material, the main material for high-density polypropylene, its main features: high strength, aging resistance, long service life, high insulation performance, strong weatherability, hot and cold humid effect the performance of products, products mainly used in architectural engineering and industry field, can solve the problem of special building construction and post-maintenance work, multifunctional product design to the designer unlimited imagination is a kind of new building materials of modern building materials engineering and industrial applications.
The combination of the plastic raised floor adjustable pedestal
How to make a such kind of product? It needs our SWY MOULD. You provide us your samples or design of the product you need, we will make the plastic injection molds for you.
Firstly have a look at the plastic injection molds made by SWY MOULD:
What is a plastic injection mold?
Injection molding is the most commonly used manufacturing process for the fabrication of plastic parts. A wide variety of products are manufactured using injection molding, which varies greatly in their size, complexity, and application. The injection molding process requires the use of an injection molding machine, raw plastic material, and a mold. The plastic is melted in the injection molding machine and then injected into the mold, where it cools and solidifies into the final part. 
The plastic injection molding process cycle in 9 steps
1. Material enters the barrel
2. Material melts and mixes
3. Volume of material (shot size in the barrel is created)
4. Mold closes
5. Injection of the plastic into the mold cavity
6. Molten material cooled (during this process, steps 1-3 are preparing for the next cycle)
7. Mold opens
8. Part ejects
9. Returns to step 4 for the next cycle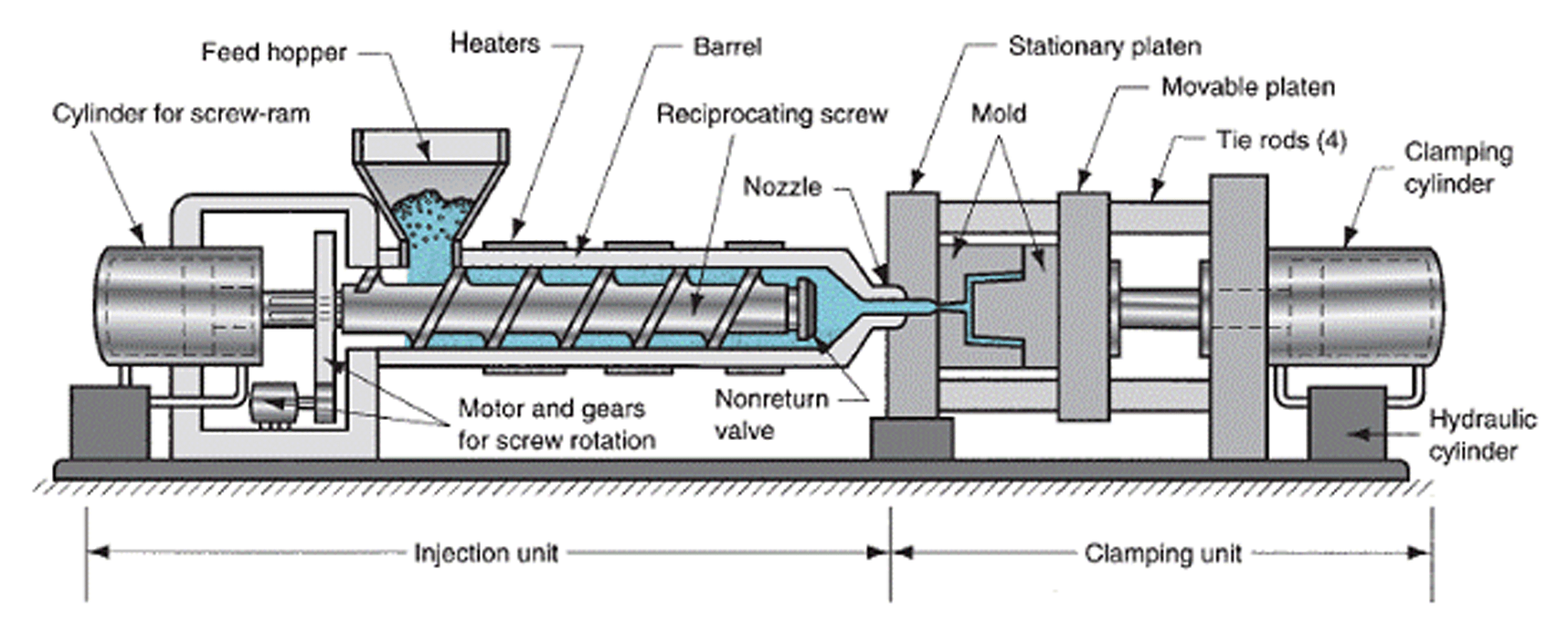 Plastic injection molds order process from SWY MOULD
1. Plastic mold quotation
Before a mold project start, it's very important to know what you need, so that we can provide you with satisfying molds and service.
When asking for inquiries, please send us samples by express or 3D data in the format of .stp/.X_T/.prt/.igs or clear pictures with sizes and obvious features or AutoCAD drawings in the format of .dwg/.pdf or your detailed sketch with ideas.
Please also provide us following basic information: required mold steel, product plastic material, mold cavity, your plastic molding machine tonnage, injection system, product surface requirement, and size tolerance or we will give you reasonable advice according to our experience.
We will give you suggestions and reply to you with the quotation within 24hours.
2. Confirming a mold order
After getting satisfied mold price from us, some points need to be discussed and mutually agreed upon. Such as payment terms, mold requirements, mold shipment, documents needed for customs clearance, NDA (non-disclosure agreement), and other points if needed.
3. Mold design
After receiving the pre-payment, we will start the product and mold design. Firstly, our technical department will check the sample or drawing to analyze the feasibility of production. 
Secondly, the technical department will confirm the following points: product raw material, material shrinkage, product & mold size, product surface requirement, mold cavity, the function of the product, etc. before designing (if customers provide us with design, it's faster). 
4. Mold machining and assembly
For every week, we will send customers the processing progress sheet with pictures or videos.
Our project manager will be in charge of all processes. 
5. Mold polishing and testing
Mold polishing is an important step in mold making, especially for some need high requirement on the mold surface. Mold polishing, not only can increase the beauty of the plastic product, can improve the piece's corrosion resistance and abrasive resistance, but also be convenient to injection molding with shortening cycle time and ejecting easily. 
After all finishing, the most important step is testing. If customers can come, we are glad that they view all the testing processes by themselves. If not, we will send samples to them by express, and videos & pictures by phone.
6. Sample checking and final treatment
At the same time, we will check the mold and sample again in different aspects according to our standard and customer requirements to ensure all are ready. 
7. Mold package and shipment
* Documents preparation 
After getting the information on mold delivery, the designer department will make and check the waterway drawing and oil circuit drawing. Then copying all 2D and 3D designs, video of mold test into a CD or sending to customers' email.  
Printing the file of Mould Operation Instruction, if there is mold temperature control box, also need to print Temperature Control Box Operation Instruction. All will send to our customers also. 
* Mould package 
Opening the mold, and using a specific mold cleaning agent to clean all parts of mold, not allowed there to be any unclean thing on mold. Then taking photos for the record. 
Spraying the anti-rust paint on the mold cavity and core surface, especially mind the parting face. 
Closing the mold and parceling the mold with plastic vacuum film, which can prevent mold rust also it's not easy for broken. 
Putting the spare parts and documents with mold together into a wooden box. Then nailing the wooden box for delivery.
After all, finished, the mold will be shipped by sea or subway or airplane which decided by our customers. 
8. After-sale service 
As for the long-term relationship with our customers, after receiving the mold and starting production, we will frequently ask if the production is smooth or if need any help. Shipping mold is not the final step of one mold order, we are more concerned about mold after-sale maintenance service so that our customers can trust us and give us the next order.