With more people pursuing beauty and health, the beauty and health management industry has gradually become hot-sale, so many companies invest in this industry. Our customer catches this chance, and she asked us to open one plastic holder mould for SUNHOPE Ultrasonic Beauty Apparatus Head. Different types of the holder are made into one mould, and there is a material flow switch which can control the producing quantity. Not only making the plastic injection moulds, but SWY MOULD also can provide you with a mass production service. Every month, our customer will place an order of product, SWY arranges the mass production and send the final product to her.
Kindly check our testing video and mass production final product:
What is a plastic injection mould?
Plastic Injection molding is one of the most common methods of mass-producing plastic products. Examples include chairs, disposable cutleries, crates, toys, consumer electronics casing, lego bricks, and many others.
Injection molding machine comprising of three main parts - the injection unit, plastic injection mold, and the clamp. The molten plastic will be moved forward within the barrel via a screw system. Once it's fully melted, it will be "injected" into the mold cavity and it will take shape. It will be cooled and hardened to form the plastic part.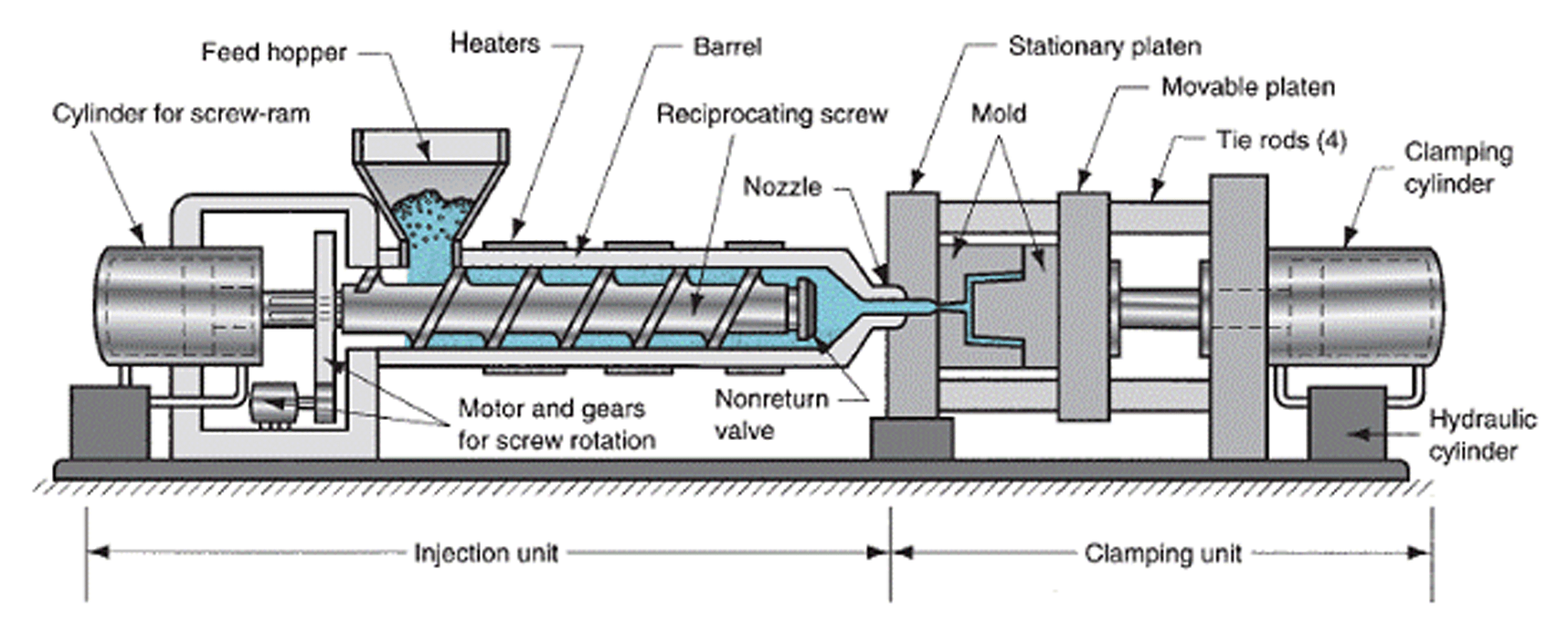 The advantages of plastic injection mould
1. Higher efficiency
The use of injection molds for mass production is great for achieving higher efficiency. Once designed for a specific purpose based on a customer's choice, the molding process doesn't take long. This makes it a lot more effective in mass production and also a lot more efficient in output rate.
2. It has enhanced strength
The use of additives such as fiberglass in plastic material is very common. These highly engineered compounded plastic materials carry characteristics of the durability of their raw materials. And, there are thousands of different types of materials in the market to suit different needs.
On top of that, the density of plastic just as it is being molded gives it greater strength. Strong and durable parts are very much needed in the marketplace, and plastic injection molding gives you the flexibility that not a lot of other molding processes can offer.
3. Gives products detailed features
The injection molds are a great way to give you mass-produce a good and detailed feature, and since they are subjected to high pressure. Thanks to this extreme and excessive high pressure, it tends to provide great detail and design on all parts of your parts or products. Secondary processes can be saved such as texturing, and through 2K or 3K molding methods, you save a lot of labor costs on assembly and the finishings are a lot more impressive.
4. Making simultaneous multiple parts
Another major advantage when it comes to the use of plastic injection molding is that you can actually simultaneously manufacture different parts within the same mold. One shot of the molten plastic produces different parts to be assembled. Consistency in colors for different parts is also a great determinant in designing the mold this way.
5. Saves cost
Thanks to the automation in plastic injection molding processes, mass production most often leads to the lowering of manufacturing costs. Injection moldings are usually automated, and it is all done by machines, robots, and/or an operator for all the quality control and management. Automation helps with significant cost savings in the manufacturing process.
6. It's cheaper than plastic machining and more lasting
It is a lot cheaper as mentioned and gives you the best without having to pay a large sum of money. As we know, the initial creation of mold can be very expensive but with mass production, each part will cost significantly lower than say a metal part. It is actually not economical to make low-volume parts with plastic injection molding due to the high initial cost of making a mold.
7. Global usage
Plastic injection molding is one of the most popular plastic-producing processes around the globe. Anywhere you look, anywhere you are, you will see lots of products made through this process.
Factors in deciding the mould cavity
A mold with multi-cavity can produce parts with higher efficiency; it is frequently applied to meet the high demand volume requirement. The number of the cavities and injection mold manufacture depends on both economical and technical factors, following factors needs to be considered to achieve the most proper mold cavity for your project
1. Lead time
There are more numbers of cavities, which means the mold will be larger in size, so the injection mold manufacturing time will be longer. If the customer has an urgent need for the mold, we would propose to reduce the cavity number of the mold to short the injection mold manufacturing time. Aco Mold will have a schedule for injection mold manufacturing. Typically mold size is 200x300, injection mold manufacturing needs 4 weeks, size in 500x600, needs 5 weeks.
2. Costs
It is easy to make sense that the costs of multi-cavity mold will be more expensive than a single cavity mold. Since there is a bigger size, there is a higher steel material cost (using the same grade steel material). Besides, the machining costs will higher because of the longer machining time and more complicated machining process. So the costs are very important factors that should be considered to offer the customer a proper solution about mold cavity.
3. Quality
Quality is what we need to promise. A balanced runner layout will be requested to have the part with good quality, for multi-cavity mold, under the same injection pressure, the melt flow must fulfill all cavities equivalently. But for those raw materials with bad melt flow performance, for example, PC, it is easy to have some cavities are fulfilled or overfilled with flash happened during injection molding, quality needs to be controlled well when deciding the mold cavity.
4. Tolerance
If we do the same manufacturing process, with the numbers of cavities increasing, the tolerance of the injection molded parts will be reduced at the same time. It would be much more difficult to ensure the tolerance during injection molding, this is why some customers would worry about the tolerance, especially those customers who are specialized in Lego toys, having high precision requirements for assembly. Also, it is not as easy as single cavity molds when we need to do the modification.
5. Injection machine capacity
When it comes to the injection molded part, it comes from the injection molding machine. Typically the injection mold will be manufactured according to the given injection molding machine data, we would double-check this with the customer, and take the size of mold into consideration during the mold design process. For the designed mold, too large or too small are not allowed, needs to have a good fitting with injection molding machine. The injection machine also has a certain amount of maximum injection volume.